Name:
Momochi Clan
Symbol: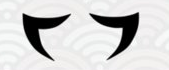 History:
The Momochi Clan, spawned in Kirigakure, is famous for their talent with Summons.
Every member has a Summon animal that has the same symbols like its summoner on the face under both eyes. Those two black symbols on the face of the summoner and summon form a bond that keeps the two together and impedes the animal from going back to the Summon World. Because of this the Momochi summons live the majority of their lives by the side of their summoner, instead of in their own dimension.
Canines are the most common animals that accompany the members of the Momochi clan. Although other animals can be used.
A well-known symptom of this clan is, that numerous children are born blind. However, those blind children are in no way a shame or futile for the clan. Being that they are not able to see, their senses are sharpener and they are much more clever. They're more in sync with their summons having sensitive hearing and olfactory sense.
Kekkei Genkai:
N/A;
Hiden clan
Appearance:
Black and white camoflage clothing and blue stipped clothing and/or blue accessories. Occasionally half white hair.
Joining Requirements:
Birth
Last edited by Affection+ on Thu Jun 07, 2018 10:26 am; edited 2 times in total
E-Rank




Posts

: 33


Fame

: -2


Elements

: Water


Village

:



If there's no kekkei genkai, there's really no reason to register this as a clan. You could create a clanless character who just so happens to have the surname Momochi and it would have the same effect.
Owner




Posts

: 70


Fame

: 6


Elements

: N/A


Village

:



That's just it, she's not clanless. It's a hiden clan like the Nara, Akimichi, and Yamanaka.
E-Rank




Posts

: 33


Fame

: -2


Elements

: Water


Village

:



Perhaps add in the app that it provides access to hiden clan techniques?
Owner




Posts

: 70


Fame

: 6


Elements

: N/A


Village

:



Similar topics
---
Permissions in this forum:
You
cannot
reply to topics in this forum